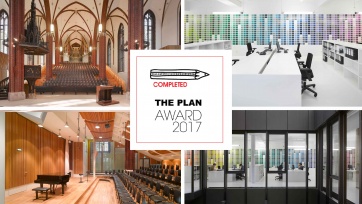 Every year and also in 2017 the PLAN Award will be awarded in 19 categories. Even two of our projects are on this year's shortlist for the award competing against international projects: the international choir in the church "Christuskirche" in the category "public space" and the conversion of our very own architecture studio in the category "interior".
The PLAN award is annually tendered by the PLAN magazine, one of the biggest magazines in the field of architecture and design. The award wants to draw attention on current architecture and works from designers and architects thus promoting the discussion on our urban surrounding.
The award ceremony takes place in Excelsior Hotel in Venice on May 17th.