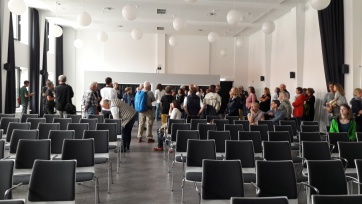 Once again, we would like to thank the visitors for taking part in our guided tours through the building within the Day of Architecture – we are very happy about your interest and positive feedback!
Michael Guttmann, manager of the Center, and project leader Kerstin Ehrenberg led through the conversion project on that Sunday and answered various questions from the approx. 80 visitors.
We would be more than happy to see you at another event. The team from ahrens & grabenhorst is looking forward to seeing you again.