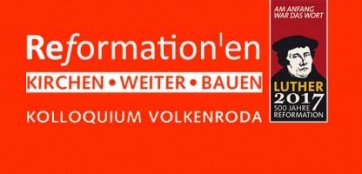 On July 7th and 8th the colloquium »Reformationˡen« (engl: reformations) took place in Volkenroda (Thuringia). Prof. Gesche Grabenhorst discussed the topic of transforming church buildings with the member of the High Consistory Christian Fuhrmann and the Berlin architect Klaus Block.
Within the current theme of the changing situation of churches in Germany, the 500th anniversary of the reformation was taken as an occasion to discuss the changing role of church buildings, current knowledge and the state of the debate. Within this discussion, Prof. Gesche Grabenhorst presented three projects that have been going through different conversions and discussed their transferability to rural areas.
The colloquium has been organized by "Stiftung Baukultur Thüringen" (Foundation for Building Culture in Thuringia) taking up upon similar conferences and events giving the transformation of church a platform – first and foremost the Institute for Church Construction and Contemporary Church Art at the University of Marburg.